Fishing on Amelia Island is a fantastic year-round sport. Visitors to Fernandina Beach can find everything from great surf fishing on pristine beaches offshore fishing and deep sea sport fishing in the Atlantic Ocean.
Let's take a look at 11 great tips that can help you plan a great fishing excursion at Amelia Island.
A tour we think you'll love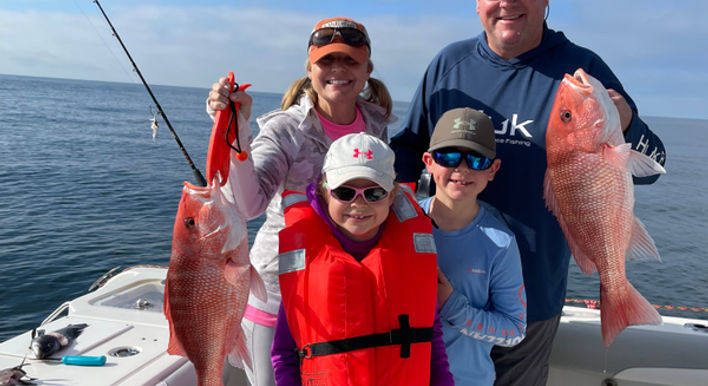 6 Hour Nearshore/Offshore
From $975
View tour
1) Inshore Fishing
Amelia Island fishing offers plenty of great opportunities close to shore. The jetties, rivers, inlets, and saltwater estuaries that surround the island are excellent for catching redfish, flounder, sheepshead, and speckled trout. There are plenty of other species available year round depending on the season.
Inshore fishing is great for families with kids, first-time anglers fishing, and anyone with a limited amount of time.
2) Offshore Fishing At Amelia Island
If you are looking to fill your cooler with fish for dinner, then a trip offshore is your best bet. Be prepared to spend all day on the water as you head out 30-40 miles.
An offshore fishing trip near Fernandina Beach is a great chance to troll for pelagics and bottom fish. Depending on the season, you might find flounder, tuna, amberjack, or shark.
3) Deep Sea Fishing From Amelia Island
Spend a full day and then some on the water. You'll have the fishing excursion of a lifetime, with deep sea fishing.
If you are unfamiliar with the waters around Amelia Island, you should consider hiring a local guide. The Amelia Island fishing charters at Fernandina Beach have local knowledge of the best fishing spots and what bait to use.
Some of the deep-sea fish varieties found in the waters around Amelia Island include goliath grouper, kingfish, king mackerel, snapper, mahi-mahi, tuna, marlin, wahoo, tarpon, and sharks.
4) George Crady Bridge Fishing Pier State Park
One of the best Amelia Island fishing spots is at George Crady Bridge Fishing Pier State Park. The pier is just 11 miles south of Fernandina Beach.
The George Crady pier is a one-mile-long pedestrian-only bridge where fishermen coax whiting, jack, drum, and tarpon from Nassau Sound.
The pier is accessed from Amelia Island State Park. It's open daily from 8:00 am to sunset. Parking is $2.00, and you will need exact change to drop in the honor box.
5) Surf Fishing At Amelia Island
Amelia Island fishing includes 13 miles of coastline with some excellent surf fishing.
One of the best spots to surf fish is near the jetties at Fort Clinch State Park. Depending on the season, angler fish for sea trout, redfish, sheepshead, flounder, whiting, and more.
The state park is open daily from 8:00 am to sunset. Parking is $6.00 per vehicle. Camping is also available here for $26.00 per night.
6) Sea Bass At Amelia Island
One of the most popular fish species at Amelia Island is the bass. You'll need a boat to catch this offshore fish species.
Consider booking a fish charter at Fernandina Beach if you are searching for bass. The local guides will have the best experience with where to go and what fishing gear and bait to use.
7) Flounder Fishing On Amelia Island
Amelia Island fishermen have the best chance to catch flounder in the area close to Fort Clinch. Large flounders weighing as much as 10 to 20 pounds are sometimes caught here.
The best time of year to fish for flounder at Amelia Island is during the fall when surf fishing in the area is at its best. The best bait to use for flounder fishing is finger mullet or bullhead minnows.
9) Sea Trout At Amelia Island
Inshore fishermen at Amelia Island can reel in a speckled sea trout year-round.
Some of the best places to find a feisty sea trout include the shallow grass flats, jetties, tidal creeks, near bridges, and at the piers.
10) Bull Redfish Fishing On Amelia Island
Fall is the best time to visit Fernandina Beach at Amelia Island, as that is when the great mullet migration takes place offshore. The mighty bull redfish is familiar with the mullet migration and will frequent the area devouring the vast schools of fish.
While fishing for redfish is popular year-round, it is the fall season that brings the largest population. Sports fishermen favor them because they are an aggressive variety that puts up a good fight. Amelia Island fishermen have reeled in large bull redfish weighing as much as 50 pounds or more.
11) Tarpon
Amelia Island offers some of the best trophy-sized tarpon fishing in the state of Florida!
Most anglers will head out in a boat nearshore fishing, but it is also possible to catch tarpon from the George Crady Fishing Pier. Tarpon like to hang out near rocks, oyster bars, and concrete structures.
Be aware that tarpon is a catch and release fish and must stay within 40 inches of the water as you take the hook out and let them go.
Amelia Island Fishing Charters
Fish with an Amelia Island local and head out to the best spots. FreeGaff Sports Fishing charters have been fishing around Fernandina Beach for many years, and we know where to go to get you on the fish. We are so confident that you'll catch fish. We even offer a no fish, no pay money-back guarantee.
From first-time anglers to highly experienced fishermen, everyone will have a great time. Our boat is powered by two Mercury 300 engines and features the most advanced Simrad electronics and Shimano fishing equipment for bottom fishing, shark fishing, or heading out for sea bass!
Let us take care of all the details. We'll bring:
All fishing and safety equipment

Bait

Fishing license

Cooler with water and ice

On our longer excursions, we also bring food and drinks.
If you're ready to get your fishing trip started, then give us a call or go online today. We look forward to meeting you!
---