Year-round warm weather, southern hospitality, and miles of incredible coastline are just some of the reasons so many fisherman visit Florida. With the Gulf of Mexico on one side and the Atlantic Ocean on the other side of the state, there are plenty of opportunities for inshore and offshore fishing.
Anglers will also find miles of river fishing and more than 30,000 lakes just waiting for you to drop in a line.
A tour we think you'll love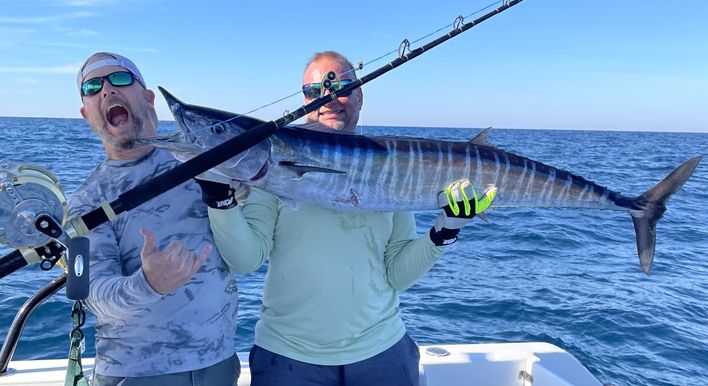 10 Hour Trip
From $1,950
View tour
While there are so many great fishing spots, let's take a look at the seven best fishing spots in Florida, for all skill levels.
1) World's Luckiest Fishing Village
Welcome to Florida's panhandle and the world's luckiest fishing village! Destin, Florida, definitely makes the short list of the best places to fish in Florida.
Destin is a popular resort community located on the Gulf of Mexico, where fishing is more than a sport. It's a way of life. Destin is about 9 miles from Fort Walton Beach.
The 100-fathom curve of the Gulf of Mexico is closer to Florida at this spot than it is anywhere else in the state, giving anglers excellent access to a bounty of saltwater fish.
The best inland fishing opportunities are found along the beach, bridges, docks, piers, and jetties. Charter a boat with a knowledgeable guide and head out for world-class deep-sea fishing for sharks, tuna, marlin, wahoo, barracuda, and more.
2) Anclote Gulf Park Pier
Head to the Anclote Gulf Park Pier in Holiday, FL, for good fishing off the pier or wade fishing on shore. The park is located just 45 minutes north of Clearwater, FL. Parking here is $2.00, and you will need exact change to slip into the drop box.
The pier sits at the outlet of the Anclote River. Fish here include jacks, sea trout, Spanish mackerel, flounder, and much more.
Park facilities include:
Restrooms

Dog park

Sheltered picnic area

Children's playground
3) Amelia Island State Park
Good food, excellent fishing, and beautiful beaches are all wrapped up in historic Amelia Island. What more could a visitor ask for?
There's excellent surf fishing along the shoreline. One of the best fishing opportunities at Amelia Island State Park is at the George Crady Bridge Fishing Pier. The pier is a one-mile-long pedestrian-only bridge accessible from the state park. It's open every day from 8:00 am to sunset.
Another popular Amelia Island fishing spot is at the Fort Clinch fishing pier. Fish species in this area include jacks, whiting, tarpon, drum, and more.
4) St. Johns River
The mighty St. Johns River runs for 310 miles along the central coast of Florida. It begins just outside of Vero Beach and continues north, through Jacksonville, where it flows into the Atlantic ocean. If you are in search of trophy-sized largemouth bass fishing, this is the place to go.
The river has a unique distinction as being one of the few places where you'll find both saltwater and freshwater fish. Those two varieties of fish are in the river's lower basin, between Putnam County and Duval County, where the river empties into the Atlantic Ocean.
5) Indian River Lagoon
The Indian River Lagoon is actually a series of three bodies of water, the Banana River, Indian River, and Mosquito Lagoon. Its located on Florida's Atlantic coast and runs for 121 miles between New Smyrna Beach and Vero Beach.
Some of the top fish catches coming out of the area include trophy-size largemouth bass, redfish, snook, speckled trout, tarpon, and more.
Some of the best ways to fish the Indian River include wade fishing, kayaking, or chartering a boat with a guide who knows all the best fishing spots.
6) Best Tampa Bay Fishing Spots
Some of the best inshore fishing spots in the Tampa area include Bishop Harbor, Edward Medard
Conservation Park Reservoir, Fort De Soto County Park, and Lake Tarpon.
Some of the best pier fishing in the state of Florida is found at the Sunshine Skyway Fishing Pier. Back when the new Sunshine Skyway Bridge was built over Tampa Bay, the old bridge was turned into this fishing pier.
Anglers can drive out on the pier and park their car next to their fishing spot. Night fishing is popular from the pier, as the bridge is lighted. Some fish species are attracted to the lights.
The most common species found in the Tampa area are the speckled sea trout, redfish, snook, cobia, flounder, and king mackerel.
7) The Best Fishing Spot In Florida – Guaranteed To Catch Fish
Don't leave your family's Florida fishing trip up to just plain luck. Visit Amelia Island and let us be your local friend who knows the best fishing spots. The experienced captains with FreeGaff Sport Fishing Charters offer a fishing guarantee. Your family is guaranteed to catch fish or your money back!
Whether your family is new to fishing or experienced fishermen, we've got you covered. We know all the best fishing spots, whether it's nearshore fishing, offshore fishing, or exciting deep-sea fishing. You'll get out on the water in a fast 30-foot center console boat powered by twin 300-up motors.
We provide everything you need:
All fishing and safety equipment

Bait

Fishing license

A cooler filled with ice and water

On longer trips, we also provide food and drinks
Our fishing tours operate as a private charter for you and your family, with up to 6 people in total. We cater to all skill levels from beginners to experienced fishermen. Your fishing excursion will be tailored to meet your skill level and the experience you want.
Questions? Ready to book? Give us a call or book online today! We look forward to meeting you in one of the best places to fish in Florida.
---