There are great things to do in Amelia Island for families, couples, and anyone who loves the laid-back island culture. The fascinating history, impressive state parks, guided tours, fishing, and southern hospitality all await you at Amelia Island.
Take a look at our list of the top 9 active outdoor experiences at Amelia Island, FL.
A tour we think you'll love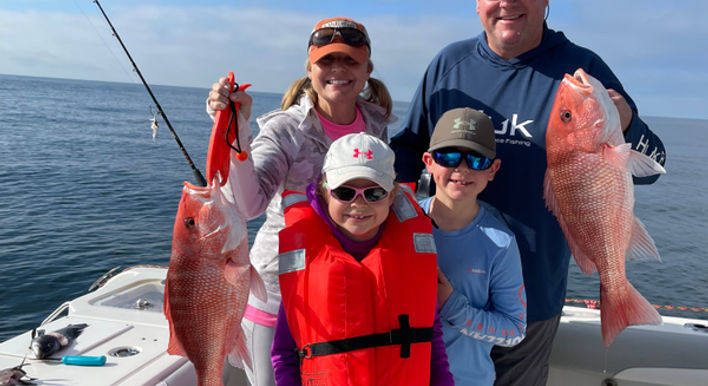 6 Hour Nearshore/Offshore
From $975
View tour
1) Amelia Island Lighthouse
Since 1830 this historic Florida lighthouse has guided ships into the channel toward the Fernandina Harbor. The 67-foot tall walls are built with reused bricks salvaged from the Cumberland Island Lighthouse. It stands as Florida's oldest lighthouse that is still operational.
The property surrounding the lighthouse is open for viewing on Saturdays from 11:00 am – 2:00 pm. However, the lighthouse is not open to the public at that time.
Tours of the lighthouse are available by appointment on the 1st and 3rd Wednesdays of each month. Contact the Atlantic Recreation Center for reservations.
2) Fernandina Beach
This charming Florida town is a highlight of every trip to Amelia Island. Stroll the old streets of Historic Downtown Fernandina Beach and see the quaint boutique shops, charming inns, and restaurants fit for foodies that line the downtown area.
Stop by the oldest saloon in Florida, the Palace Saloon on Centre street. Enjoy a cocktail, a cold beer, or a world-famous Pirate Punch while you listen to live music.
Be sure to enjoy a tasty shrimp dinner at one of the seafood venues in town. Shrimping is a part of the culture here, as Fernandina Beach is where the shrimping industry began in Florida.
3) Amelia Island Kayak Excursions
Kayak excursions offer one of the best things to do in Amelia Island for outdoor explorers.
The Amelia Island waterways offer a series of swamps, creeks, and rivers just waiting to be explored. Rent a kayak, or take a guided tour, and head out for an adventure on the water.
For wildlife lovers, a kayak trip into the x is a chance to see eagles, dolphins, and manatees.
4) Fort Clinch State Park On Amelia Island
Hiking, camping, fishing, shelling, and looking for shark teeth on the beach make Fort Clinch one of the best things to do in Amelia Island for families.
The historic Fort Clinch is at the center of this 1400-acre park. The fort played an important role in defending the state during the Civil War. You can still see the guard rooms, barracks, kitchens, hospital, blacksmith's shop, and a prison.
On the first weekend of every month, there is a demonstration of battlefield skills, including firing the cannons, enacted by a local soldier regiment.
5) Horseback Riding On Amelia Island
If horseback riding on the beach is on your bucket list, Amelia Island is the place for you. For outdoor recreational activities, horseback riding on the coast of Fernandina beach tops our list of Amelia Island things to do.
Imagine riding along miles of sand dunes and through fragrant forests of oak and cedar trees. Exploring the Fernandina beach area by horseback gives the rider a far better view of the impressive Atlantic coastline.
If you are planning a romantic getaway at Amelia Island, then riding should be on your short list of outdoor activities. Consider taking a guided tour with a knowledgeable local guide who can share the local lore of the island.
6) Fernandina Plaza Historic State Park
Fernandina Plaza Historic State Park is famously the smallest state park in Florida. At only .8 acres, it is easy to see how the park received such recognition.
It sits at the top of a bluff with a view of the Amelia river on the northern edge of Amelia Island. The park sits at the original site of Fort San Carlos. While there are no parts of the fort to explore, there are signs and markers explaining the fort's historical significance.
Take a blanket and a picnic lunch to enjoy the open grassy area and see the old southern island homes that line the park.
7) Amelia River Cruises
Take a 2.5-hour river cruise to neighboring Cumberland Island. Along the way, you'll see the Fernandina shrimping boats, Fernandina Beach Old Town, and Historic Fort Clinch. The tour's highlight is a possible sighting of the famous wild horses of the island.
Your knowledgeable local guide will point out the sites along the way and search for wildlife sightings like dolphins, manatees, alligators, and sea otters. You'll also hear stories of the rich history of Cumberland and Amelia Island.
8) Sea Turtles At Amelia Island
One of the most exciting Amelia Island things to do is watching for the turtles during nesting season!
Turtle season on Amelia Island is from May 1 to October 31 every year. You can see endangered loggerheads, leatherbacks, and green sea turtles make their nest on the beach and quietly return to the sea.
According to the city code, outdoor lighting around Fernandina Beach is strictly regulated. The turtles rely on the moon's soft light to guide them back to the sea, and they can become disoriented by artificial bright lights.
To watch the nesting turtle from a distance, come towards the beginning of turtle season on this barrier island. To watch the baby turtles as they hatch and make their way to the water, visit towards the end of turtle season.
9) Guided Fishing With Amelia Island's Top Fishing Guides
If you are ready for a great day of outdoor adventure, we have got an exciting day planned for you!
Our experienced fishing guides at FreeGaff Sport Fishing have a fantastic guarantee. If you don't catch fish, you don't pay. Whether you are an experienced angler or someone that's never fished before, we have everything you need to catch fish.
We offer seven fishing charter options for groups of up to 6 people. Options include jetty or nearshore fishing up to a world-class sport fishing adventure that's 90 miles from land!
Everything you need is included. We provide licenses, tackle, ice, water, food, and drinks.
Book now and let's get your fishing adventure started!
---